Foreign Competition: A Two-Way Street
Amid threats of job losses is potential for growth

October 26, 2003

Tim Knauss
Staff writer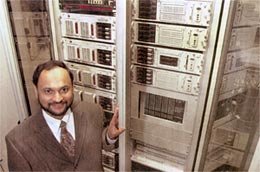 A good medical transcriptionist is hard to find, says Frank Kunnumpurath, who has hired about 200 of them during the past three years.

Typing a doctor's hastily recorded notes requires familiarity with medical conditions and procedures. Hospitals and medical offices want the work done quickly. They expect meticulous attention to detail. But they don't want to pay a lot. Facing a shortage of suitable workers in this country, the solution for Kunnumpurath has been to hire medical transcriptionists in India.

His Salina-based company, Spectrum Software Solutions, added a medical transcription subsidiary three years ago that now has 170 clients and more than $2 million a year in sales.

Nearly nine out of 10 of the company's 260 employees are in India.

College graduates there are willing to type medical records for about $3,000 a year to start, with a chance to earn as much as $10,000 if they get really good at it, Kunnumpurath said. In the United States, where the salary range is roughly $17,000 to $30,000, he has difficulty attracting qualified high-school graduates.

Spectrum's evolution is just one more example of how a vast labor pool in Asia, Eastern Europe and Latin America is transforming many American businesses.

Thanks to international free trade agreements and the global reach of the Internet, nearly every business - small or large - has to confront both the threat of foreign competition and the potential for growth abroad, said Robert Trachtenberg, president and chief executive officer of the Central New York Technology Development Organization, or TDO.

"Everybody's being affected by international trade. It's become both a market and a source of competition. . . . There is structural, inherent change taking place in the way we do business," he said.

In Central New York, some of the recent repercussions from global trade have been startling, to say the least.

Nestle Crunch bars that were once made by 467 people in Fulton are now being made in Brazil, where average manufacturing wages are only 12 percent of American pay.

Equipment for cable Internet providers that was formerly designed and manufactured by 287 workers at C-COR.net Corp.'s plant in Manlius is now made in Mexico, where average labor costs are 11 percent of U.S. costs.

Air conditioning and refrigeration equipment manufactured by 1,200 Carrier Corp. employees in DeWitt may soon be made in China, Singapore and Stone Mountain, Ga.

But the headline-grabbing factory closings are part of a larger trend that extends well beyond manufacturing. Local software developers are battling competition from India. Apple growers are facing a flood of juice concentrate imported from China.

How will Syracuse fare in the global economy?

The hope, of course, is that global trade will bring opportunities to local businesses in addition to the threats.

At a trade show in Boston last week, Robert Daino, founder and president of Progressive Software Solutions Inc. of DeWitt, made a deal to partner with a company in Brazil, which will enable his 31-person company to sell its services abroad for the first time.

The Brazilian firm needed an American partner to give its own software credibility in the Brazilian market, where corporate clients hold U.S. products in high regard, Daino said.

Daino's company, which does business under the name Promergent, sells software to large corporations to help them manage and streamline their operations. Promergent will benefit from the joint venture by gaining access to the world's ninth-largest economy without having to establish its own local presence in Brazil, he said.

To reject an opportunity to expand abroad would be to risk losing market share to international companies, many of whom are looking to enter the U.S. market by partnering with American firms, Daino said.

"That's one of the reasons we're starting to internationally partner, to get some of these guys to let us be their corridor so we don't lose opportunity to them," he said. "Because they're going to hook up with somebody, there's no doubt."

A year ago, a handful of business leaders, economic development officials and others launched a new organization, the Central New York International Business Alliance, to support businesses trying to expand abroad.

At a meeting of the group last week in Syracuse, Joe Brown, vice president of sales and marketing at American Granby Inc., said one of the challenges is overcoming the perception that Central New York businesses can never succeed against low-cost regions such as China.

"I think the prevailing idea now is that China is a competitive place, and we can't compete with that," Brown said.

Brown said his 40-year-old company has adapted to the global marketplace.

American Granby, of Clay, distributes equipment used in plumbing, irrigation, pools and other water systems, most of which is assembled by other companies. Over the years, most of the manufacturing has moved offshore from the United States to places including China.

"If I use offshore resources to help my 50-person company prosper, isn't that better than letting it wither on the vine?" Brown said.

Labor may be more expensive here than abroad, but Central New York has valuable resources, business officials say. High on the list is a concentration of technological expertise, a legacy of local colleges as well as now-departed manufacturers such as General Electric.

Such "human capital" is critical to the region's development, said Peter Koveos, director of the Kiebach Center for International Business Study at Syracuse University.

Economic development officials hope that Central New York researchers will continue to create new enterprises, particularly in emerging areas such as indoor environmental services and biotechnology.

Public-private research centers including the state Center of Excellence in Environmental Systems, the New York Indoor Environmental Quality Center and the Central New York Biotechnology Research Center could be critical to the region's economic future, said Cornelius Murphy, president of SUNY College of Environmental Science and Forestry, who has been involved with all three.

"There's a strong emphasis on how do we develop this technology and, more importantly, how do we keep it local?" Murphy said.

Proximity to brainpower lured attorney Rhett Weiss to Syracuse.

Weiss, formerly of Virginia, specializes in helping companies evaluate their options for developing, expanding and locating facilities. He moved to Syracuse to launch a new company, DEALTEK Ltd., which uses software he developed to help companies evaluate options.

He chose Syracuse to be near his software development team, a Web development group at Syracuse Research Corp. that later spun off to become Purplewire LLC.

In a global economy, Weiss points out, resources that Central New Yorkers may take for granted - a reliable power supply, a strong telecommunications infrastructure, good roads - take on competitive significance. Weiss said his software runs on servers in downtown Syracuse because the area rarely has power failures.

In Cochin, India, on the other hand, where Spectrum Software Solutions has its offices, the power goes out virtually every day, Kunnumpurath said. The company keeps a diesel generator for backup.

Indeed, doing business abroad often brings extra costs that eat into the margin created by cheap labor. Spectrum pays $40,000 a month for a dedicated Internet connection between Salina and Cochin, over which the company transmits medical transcription as well as software developed by its programmers working in India.

A variety of factors - poor transportation, bad weather, and the absence of typing instruction in Indian schools - makes his Indian transcriptionists only one-third as productive as their American counterparts, Kunnumpurath said. That's why he hires every qualified American he can find, he said.

Despite wages that are at least three times lower in India, medical transcription produced there is only about 15 percent to 20 percent cheaper after other costs are factored in, he said.

And that margin is shrinking. Because the influx of international companies has driven up demand for college graduates, wages in India have risen about 35 percent in the three years Spectrum has been hiring transcriptionists, he said.

Energy costs have more than doubled since the Iraq war, and taxes are rising. In several years, there may be no savings to be had from doing transcriptions in India, he said.

"I think in medical transcription, the glory days are already over for us," he said.

© 2003 The Post-Standard. Used with permission.